The effects of outdoor dining: parking, traffic, and accessibility - and what's important to this resident
The Residents Association will be hosting a public meeting on outdoor dining this Thursday from 6 - 8pm at the Nazzaro Center. Three concerns are often raised in these discussions: parking, traffic, and accessibility. Let's take a closer look at each along with some other topics and suggestions at the end.
Parking
There are roughly 1,300 parking spaces on public property in the North End that are free for any resident car owner to use. However, there are more than two cars registered to North End residents per free parking space. That means that less than 50% of households with cars use free public property parking spaces at any given time. Further, more than 50% of North End households don't own a car at all. So it's really a minority of a minority of households that take advantage of the free on-street parking.
Framing the parking situation with these numbers helps us understand what percentage of households are impacted by repurposing 160 of the 1,300 parking spaces. It's roughly 2.5% of all households.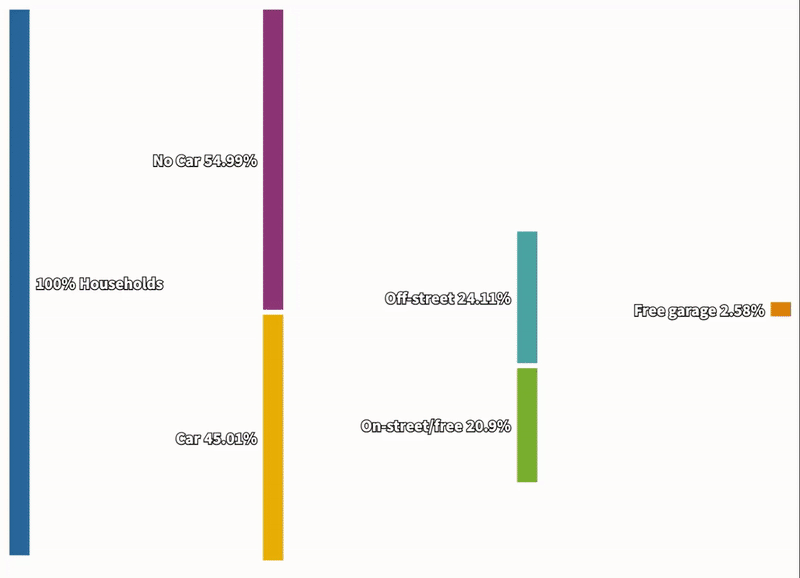 In addition, the 160 repurposed parking spaces were replaced on a 1-to-1 basis in area garages. So there was no net loss to free car storage for residents that own cars.
Traffic
The 2022 season saw the first 430 feet (1/4 of its total length) changed to a single one-way northbound lane. I would argue that the biggest impact of this change was to pedestrians who lost half the sidewalk on the east side of Hanover to an ugly sign redundantly stating that the blocked-off lane was closed for the whole summer.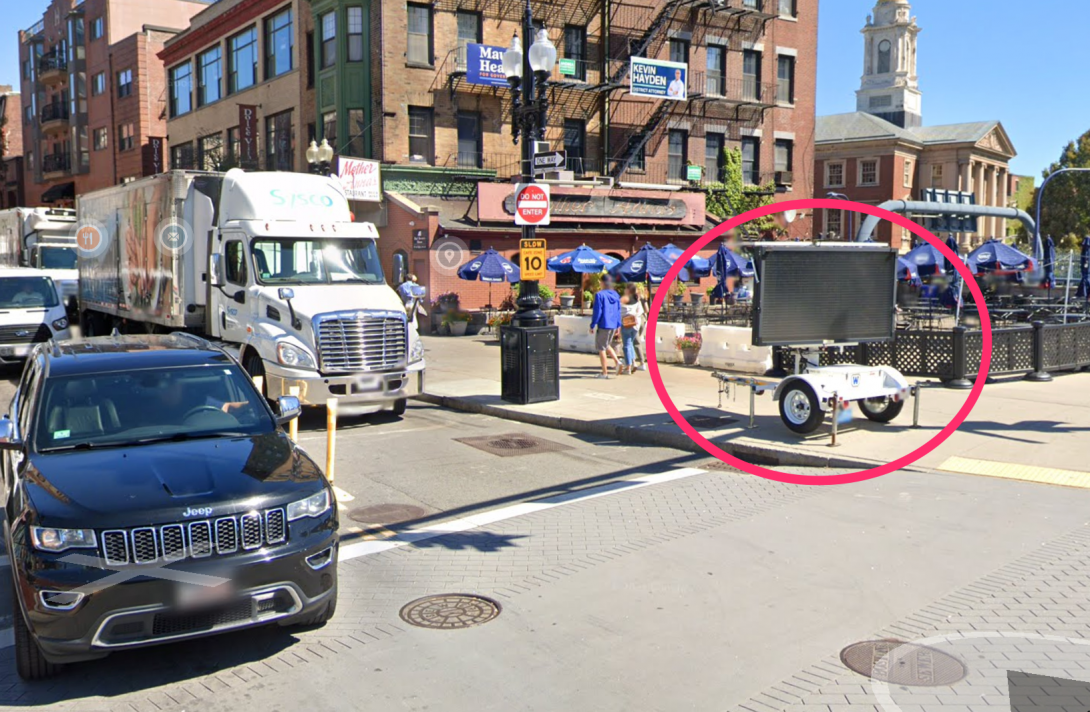 Alas others have expressed that there is a "spillover" effect to closing this lane. I assume that this refers to (the vanishingly small number of) vehicles which must access some part of Hanover Street from Cross Street. The detour is to take Atlantic to Commercial and turn left on Hanover. Commercial Street has more lanes than Hanover even when Hanover is two-way for its entire length, so I can't imagine how the "spillover" traffic negatively affects residents. But if there's a real concern here, I would like to see it brought up with BTD.
Accessibility
Residents have complained that outdoor dining makes the sidewalks too congested to navigate - especially for those with mobility issues. The outdoor dining program doesn't actually give any sidewalk space to restaurants, but it's probably true that the sidewalks are even less passable when outdoor dining is in effect.
This seems like the most valid of the common concerns and the one most likely to affect the most residents. Unfortunately, I don't see a viable solution. One thing that's been suggested is to give the restaurants space on the sidewalk and let pedestrians walk next to the curb on the street. But, among other problems, this would require accessibility ramps to be installed at nearly every building entrance which would end up jutting out into the street-level walkway.
In the end, I don't see how the Hanover and Salem Street sidewalks are any worse from an accessibility standpoint than probably 80% of of the North End sidewalks year-round. If accessibility is a concern, we would be much better served by making a significant investment in the rest of the sidewalks, curb cuts, and crosswalks in the neighborhood.
This leads me to my next section: What should we be asking for?
Suggestions
First and foremost, keep fighting for what is important to you. For example, the 160 parking spots that are replaced 1:1 in garages wouldn't have happened if those affected hadn't spoke up. I support the efforts of those that fought for the garage spaces. The following are some of the things that are more important to me.
Better pedestrian accessibility throughout the neighborhood
Let's focus on making tangible, year-round accessibility changes that result in actual improvements for residents moving about the neighborhood. A crosswalk on Prince at Snowhill? A traffic officer at the Eliot Upper School? Snow removal on the Prado? ADA-compliant curb cuts on Salem? There are dozens of small changes that could have an actual positive impact on mobility and safety for residents.
Public space for the public
At a minimum, we should reclaim our recently rebuilt public space in North Square from the private restaurants that have exclusive use of it. A small table in the corner, or begging a maître d' for access after 4pm isn't acceptable. North Square should be public and accessible to all at all hours.
It would be nice to take this a step further. We've reclaimed some space previously used for private car storage and given it to the restaurants and their paying customers. Next we should look at reclaiming some of that space for uses more suitable to residents. A process by which a resident can use the curb space outside their building for any activity other than car storage would be a great step. For example, virtually no properties in the North End are suitable for a grill because of fire codes. But curb space currently used for car storage would be a great place for neighbors to set up a grill and host BBQs. Or without a grill, curb space could be repurposed as a parklet or sitting area. Alternatively, a family could use some curb space to store their bicycles for the summer - saving them from lugging them up and down flights of stairs or out a basement door.
The possibilities are endless when we grant the actual residents the same options we offer the restaurant owners when it comes to how they use the curb space outside their buildings.
Accountability in spending of collected fees
Last year, the city collected an estimated $1m in fees from restaurants above the money spent on replacing parking spaces. There were loose promises of street cleaning and hokeys, but no visibility and no noticeable change. How about we use the $1m collected this year to fund a study on a modern trash collection system for the neighborhood?
What else?
I'm curious to hear what's important to other residents - and I'll see you at the Nazzaro Center Thursday night at 6.