Dates, one-way Hanover, fees discussed at second North End Outdoor Dining Meeting
The Office of Neighborhood Services held its second community meeting on outdoor dining in the North End on Thursday night. About 75 residents, restaurant owners, and other concerned parties were in virtual attendance. After brief remarks from Mayor Wu, Facilitators John Romano and Ciara D'Amico got right to the point. We were going to cover:
Dates (shorter season, stipulations)
Traffic reconfiguration (one-way Hanover)
Fees ($7,500 per restaurant plus the cost of garage parking for displaced spots)
Dates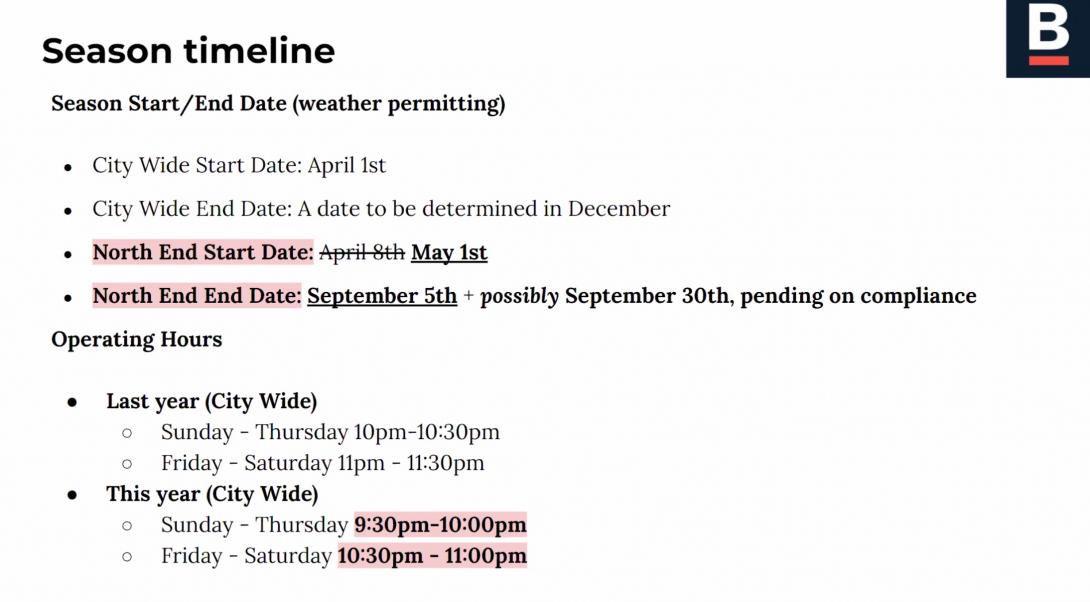 The outdoor dining season will run from May 1st (previously April 8th) through September 5th. Restaurants that have been "good actors" will be allowed to keep their patios open until September 30th. Patios can be open until 10pm Sunday through Thursday and 11pm Friday and Saturday - which makes the closing time 30 minutes earlier than last season. There was little debate or comment on this topic. One person asked why a restaurant that had been a bad actor would still be allowed to be operating on September 5th anyway. Romano clarified that there is a process for revoking patio licenses prior to September 5th too and that only restaurants that had received zero wrists slaps would be allowed to stay open til the 30th.
Traffic reconfiguration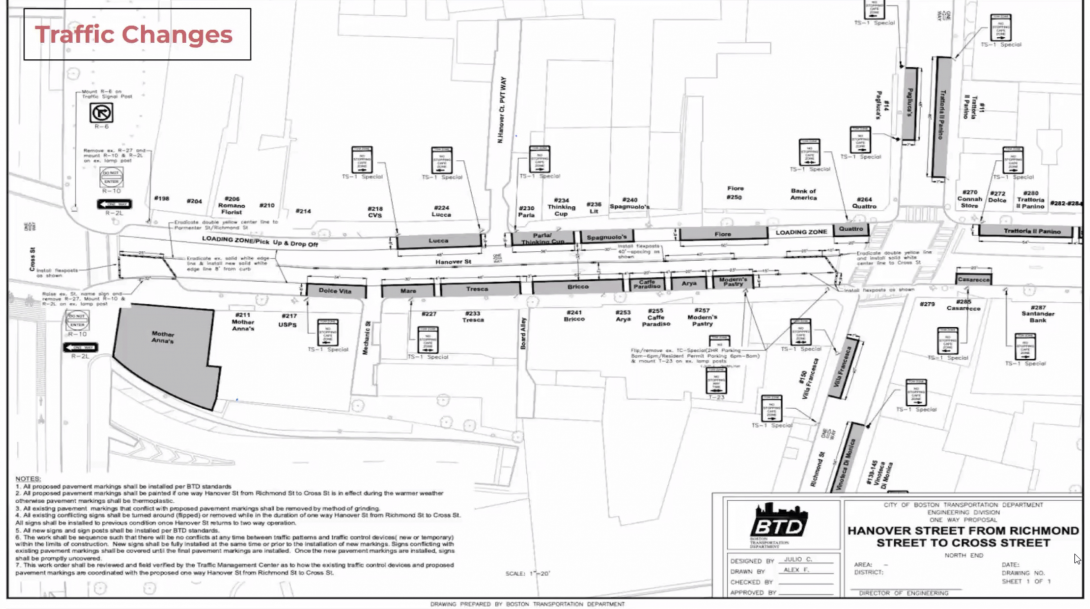 Hanover Street will be one-way (southbound) but only the first 430 feet of it from Cross Street to Parmenter, about ~25% of the total length of the street. A wise man once said that everyone is traffic expert and each expert chimed in with their suggested tweaks the current plan. Romano and others (including the main presenter, Al, on this topic from the city, who identified himself as a "life-long North End resident except for the last ten years") explained the logic behind the plan and moved on.
There will be loading zones with flexposts every 40 feet on the previously northbound lane. There will also be flexposts at the start and end of the one-way to hopefully prevent motorists from driving in the closed lane.
Fees
Restaurants will need to pay a $7,500 fee to participate in the program in addition to the market garage rate for each of the parking spaces their patios occupy. The $7,500 fees - a total of $630,000 if the same number of restaurants participate as last year - would go towards paying street sweepers and... some other stuff? It wasn't really clear how the $630,000 would be spent, but it would somehow go back to the neighborhood.
Philip Frattaroli (Ducali, Lucia, Fillipo, +) asked if the fee for spots would be prorated if the occupied spaces were not 24/7 resident parking to begin with. Answer: no. Frattaroli also asked if the fees were tax deductible and argued they should be because a lot of the restaurants contribute to North End charities. Answer: 🤷‍♀️. Carla Gomes (Antico Forno, Terramia) said the fee was just plain too high. Romona countered that the program is opt in and she is welcome to not participate.
At least one other restaurant owner agreed with Gomes:
Other
Residents with North End parking stickers will be able to store their vehicles in one of two lots (Prince Street garage and Sargent's Wharf) where one spot will be made available for each spot occupied by a restaurant. A few expressed concern that some residents might leave their cars in the garage spots for a week or more. Another suspected that the attendants at the lots might lie and turn them away even when the threshold of allocated spots had not been met.
Some residents spoke in support of the program. Self described "good actor" Damien Di Paola (Carmelina's) thanked the supporters before going on a minutes-long, largely incomprehensible (due to audio issues as well as content) rant.
All in all, it was a relatively calm and productive meeting. There are no further meetings scheduled.
Meeting chat transcript: